Vision, Values and Mission
Our Vision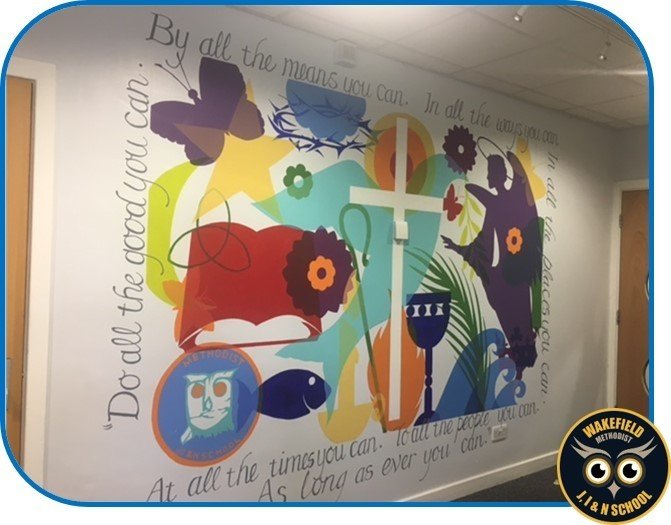 Every person's potential fulfilled. Wakefield Methodist School exists to help everyone become all that they can be.
Our vision comes from the words of Jesus
"I came that they may have life, and have it abundantly." Gospel of John, 10:10b
Our school exists to ensure children will live life abundantly and become all that they can be by living by John Wesley's 'Rule of Life' and our school values. We aim to help everyone of all faiths and none -to fulfil their potential, live with respect, and have the opportunity to flourish.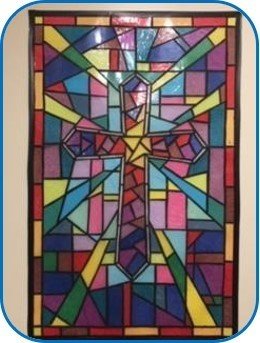 "Do All the Good You Can,
By All the Means You Can,
In All the Ways You Can,
In All the Places You Can,
At All the Times You Can,
To All the People You Can,
As long as Ever You Can."
John Wesley Founder of Methodism.
Our vision shapes everything we do. We are all continuously striving to do all we can to ensure everyone meets their potential and this is reflected in all subject development plans, the aim is to ensure we all meet our potential. We provide each child with a broad, balanced and challenging education which will foster his/her intellectual, social, emotional, spiritual and physical development. We provide each child with the opportunity to develop and explore the Christian faith in the context of an ever changing world. The quality of Collective Worship and the quality of the teaching of R.E alongside all the other strands of our broad, balanced and exciting curriculum ensures that the children are fully immersed in a culture that encourages a love of learning and a continual growth in a wide range of knowledge and skills.
Our Learning Vision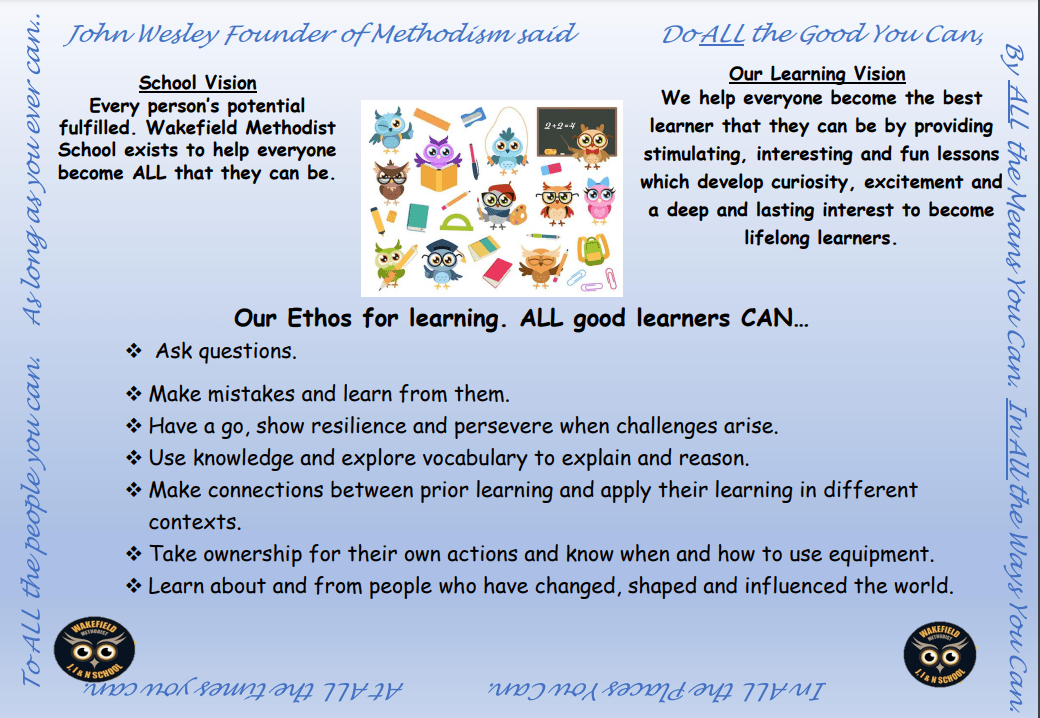 Our Values
Our school values are central to everything we do in school and they link closely to our school rules. Everyone in school is expected to live by our values and follow the associated rules.
Value Rule
Kindness Treat others as you would want to be treated.
Respect Be respectful to everyone.
Perseverance Always try your best and never give up.
Trust Be trustworthy and always tell the truth.
Children reflect on the school values each week during Collective Worship and we celebrate children demonstrating how they are living by our vison and values. We also reflect on significant local, national and international events.
In recent years school has developed a partnership with 'All We Can' the Methodist Relief and Development Charity. Through this partnership with we have helped communities around the world.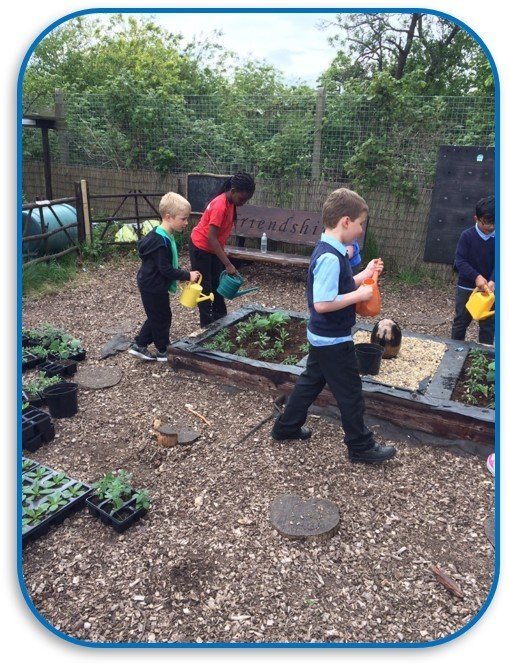 Our Mission
As a Christian School where prayer is an important aspect of our lives we are committed to provide a happy and caring learning environment in which staff and pupils work in partnership with parents to promote the desire to learn.
The school was judged to be Good by OFSTED in March 2018 and Good by the National Society's Framework for The Statutory Inspection of Anglican and Methodist Schools (SIAMS) in September 2019.
"The Christian vision of striving for 'life in all its abundance' is lived out through the tangible care that pervades the whole school community, driven through a culture of mutual support amongst staff. Pupils are respectful of each other and adults. They are empowered to be the individuals they are created to be without fear of prejudice. Pupils' involvement in supporting the homeless through the Community Awareness Programme, and their support for adults with learning needs has given them a passion for tackling inequality. They are proud to be ambassadors for the Methodist international development charity 'All We Can', supporting other schools in developing this valuable partnership. As put by one pupil, 'John Wesley helped everyone by doing good and so do we.' As a consequence, pupils are motivated to do all they can to make a positive difference to the lives of others both locally and globally." SIAMS September 2019
If you require any a paper copy of any of the information included on this website please visit the school office and they will provide you with a copy.